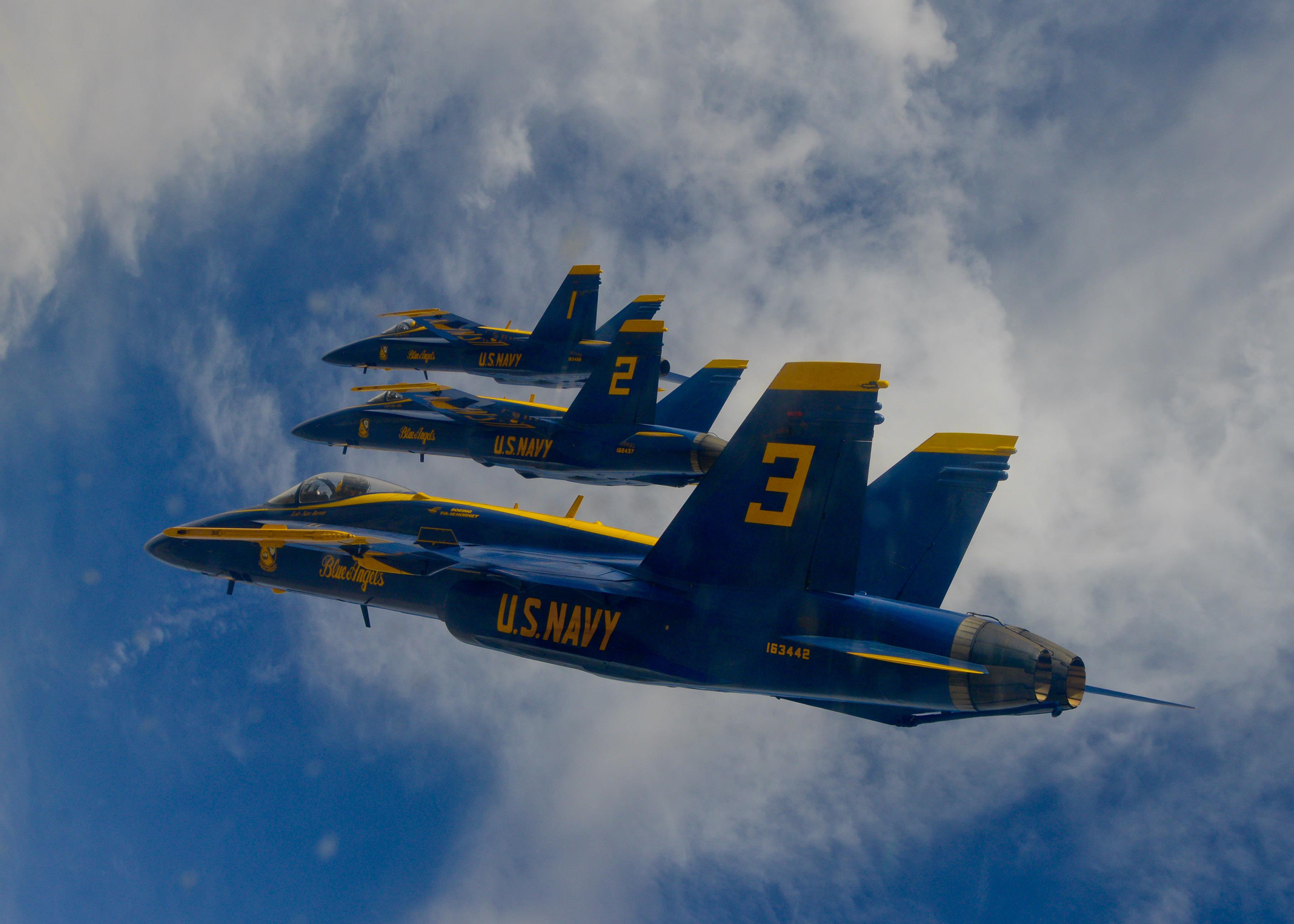 The U.S. Navy Blue Angels
The Blue Angels' mission is to enhance Navy and Marine Corps recruiting efforts and to represent the naval service to the United States, its elected leadership and foreign nations. The Blue Angels serve as positive role models and goodwill ambassadors for the U.S. Navy and Marine Corps. A Blue Angels flight demonstration exhibits choreographed refinements of skills possessed by all naval aviators. It includes the graceful aerobatic maneuvers of the four-plane Diamond Formation, in concert with the fast-paced, high-performance maneuvers of its two Solo Pilots. Finally, the team illustrates the pinnacle of precision flying, performing maneuvers locked as a unit in the renowned, six-jet Delta Formation. Since its inception in 1946, the Blue Angels have performed for more than 427 million fans.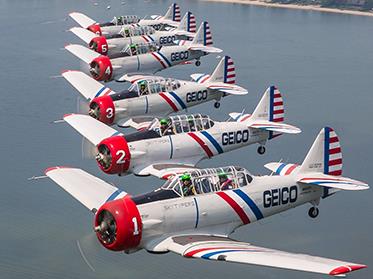 GEICO Skytypers
The GEICO Skytypers are a civilian air show squadron based in Long Island, NY. The team is comprised of 11 pilots who fly World War II-era aircraft. The GEICO Skytypers are one of a select few organizations in the world that can generate giant skytyped messages. In addition to skytyping, the team performs a low-level precision-flying demonstration showcasing many of the maneuvers and tactics that were taught to WWII and Korean War pilots. The Skytypers perform a low-level, precision flying demonstration that has thrilled spectators all over the United States. The aircraft fill the skies in front of the audience as the team performs their 18-minute demonstraion. Through expert energy management and steady hands, the pilots extract every ounce of performance possible from the wonderful WWII antique aircraft.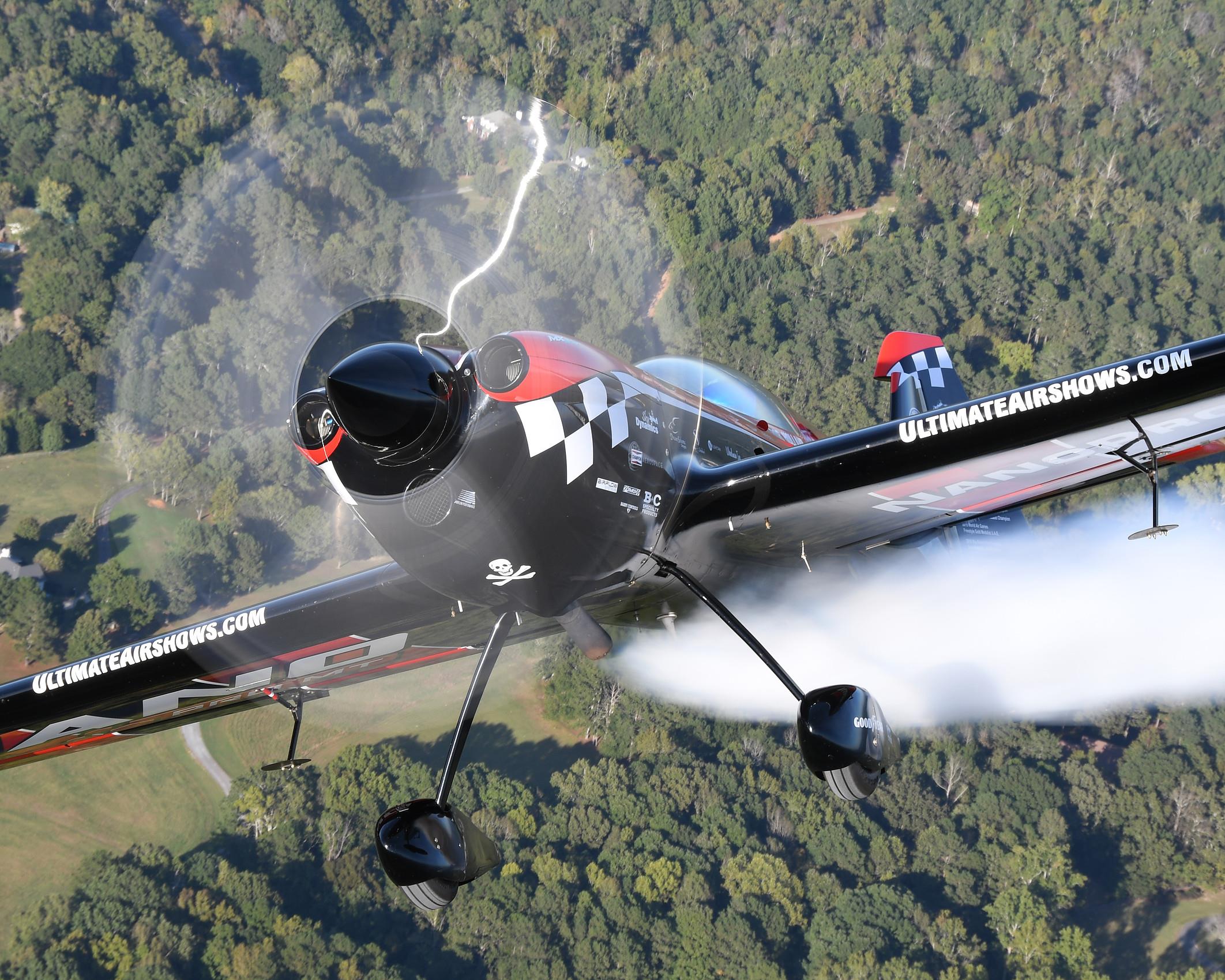 Rob Holland
Rob Holland is one of the most decorated, respected, and innovative aerobatic pilots and airshow performers in the world today. Flying the MXS-RH, an all carbon fiber, competition–ready, single-seat aerobatic airplane designed and built by MX Aircraft, Rob Holland brings an unrivaled performance to airshows across North America, thrilling millions of spectators with his dynamic and breathtaking display. Winner of six consecutive US National Aerobatic Championships, three World Freestyle Aerobatic Championships and the International Council of Airshows (ICAS) prestigious Art Scholl Award for Showmanship, the highest honor any airshow pilot can receive, Rob has distinguished himself by blazing a trail of innovation, developing maneuvers never before seen at an airshows. In 2017, Rob will be celebrating 16 years in the airshow industry, bringing his passion for aviation to audiences at airshows across North America, hoping to inspire people to pursue their dreams with the same focus and dedication that has propelled Rob to the very top of the airshow world.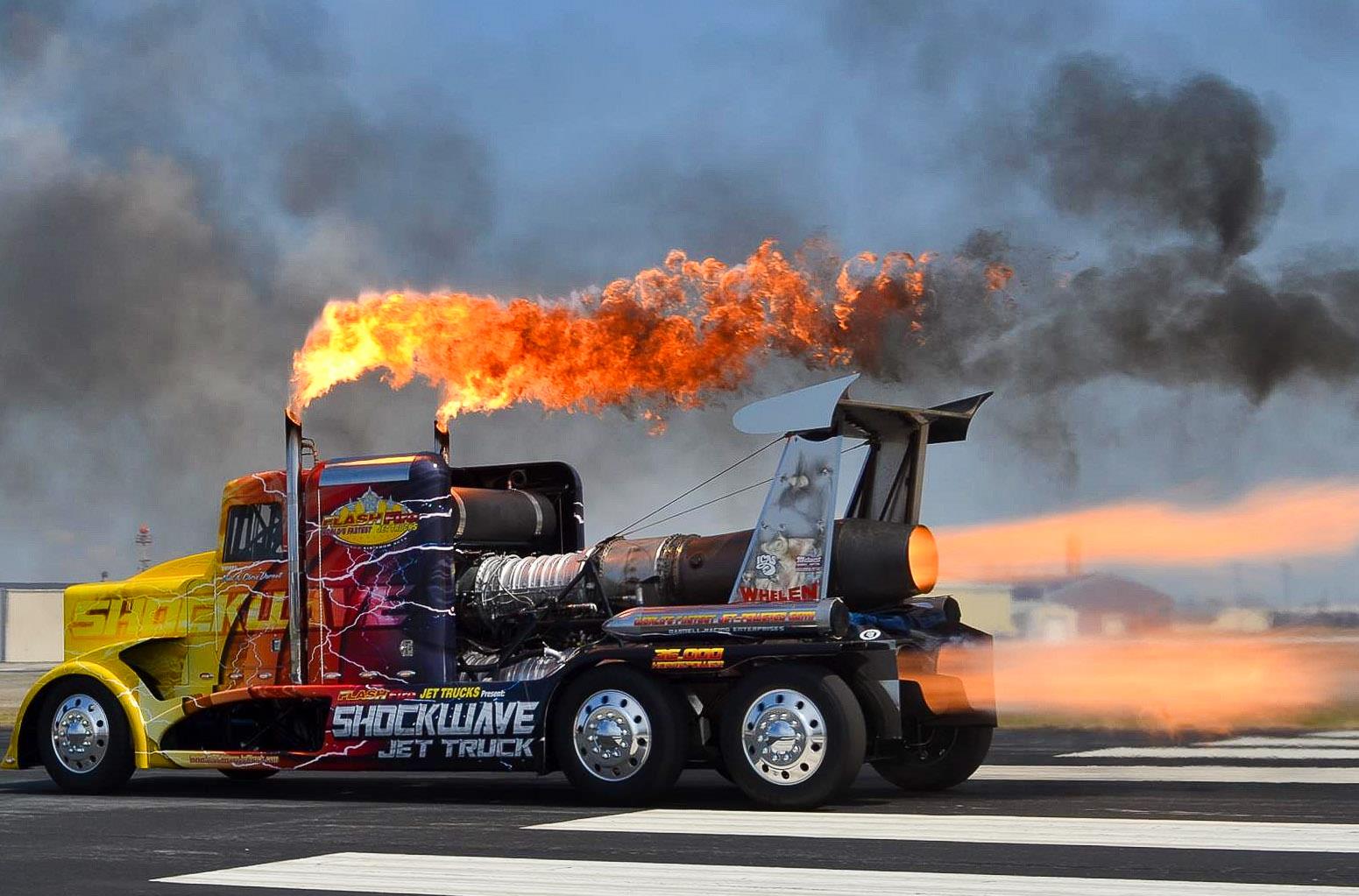 Shock Wave Jet Truck
Shockwave is a custom built race truck equipped with 3 huge J34-48 Pratt & Whitney Jet Engines originally out of the USA Navy T2 Buckeye. The combined horsepower is 36,000! These 3 Jet Engines make a total of 21,000 lbs of thrust which easily propels this truck to speeds over 350 mph while racing planes at air shows all over North America! Shockwave is not only the most powerful truck in the world, it also hold the record speed for Semi Trucks at 376 mph! As one of the most popular air show and drag racing exhibition vehicles in the world, the Shockwave performance is not something you will soon forget! This is truly an assault of all of your senses with huge flames coming out of the 3 after burning jet engines, fire shooting out of the smoke stacks, intense heat, deafening noise, and SPEED! Shockwave is owned by Darnell Racing Enterprises, Inc based in Springfield, MO and driven by Chris Darnell.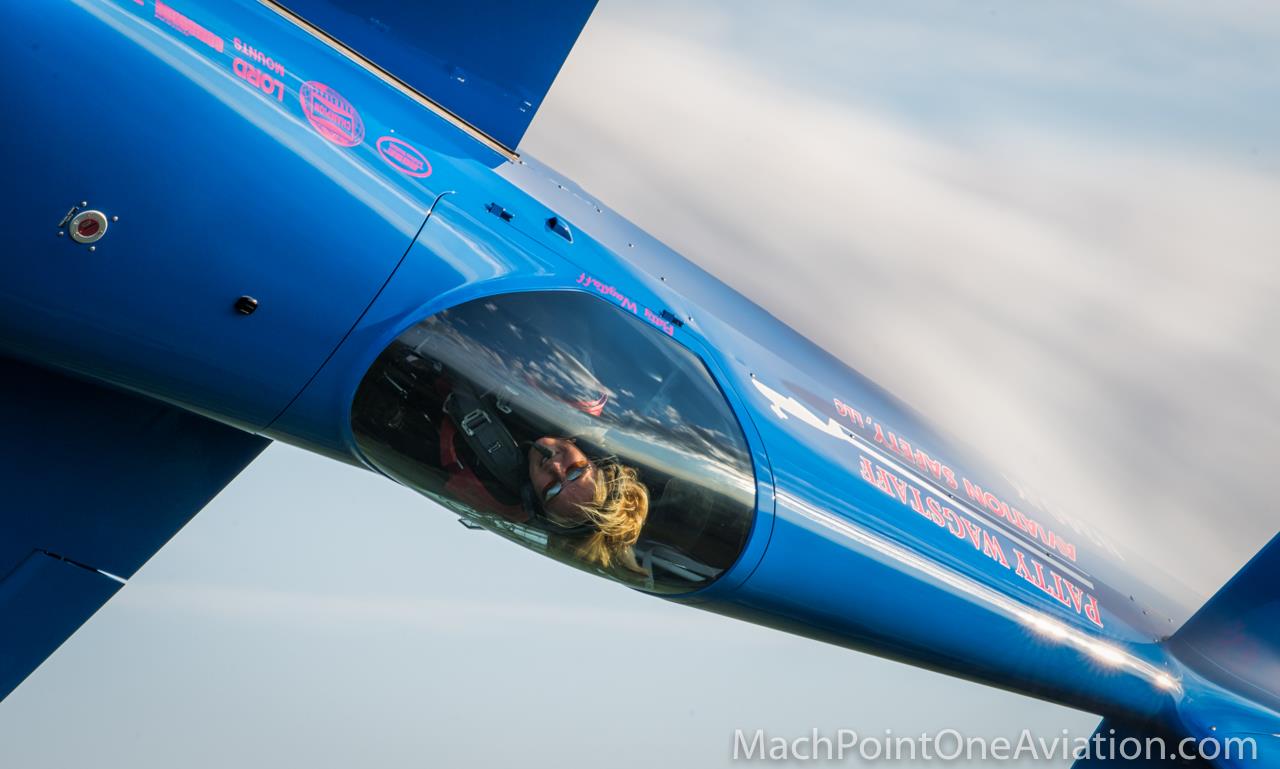 Patty Wagstaff
Patty, one of the world's top airshow pilots, flies thrilling, low-level aerobatic demonstrations before millions of people each year. Her breathtaking performances give airshow spectators a front-row seat view of the precision and complexity of modern, unlimited hard-core aerobatics. Her smooth aggressive style sets the standard for performers the world over.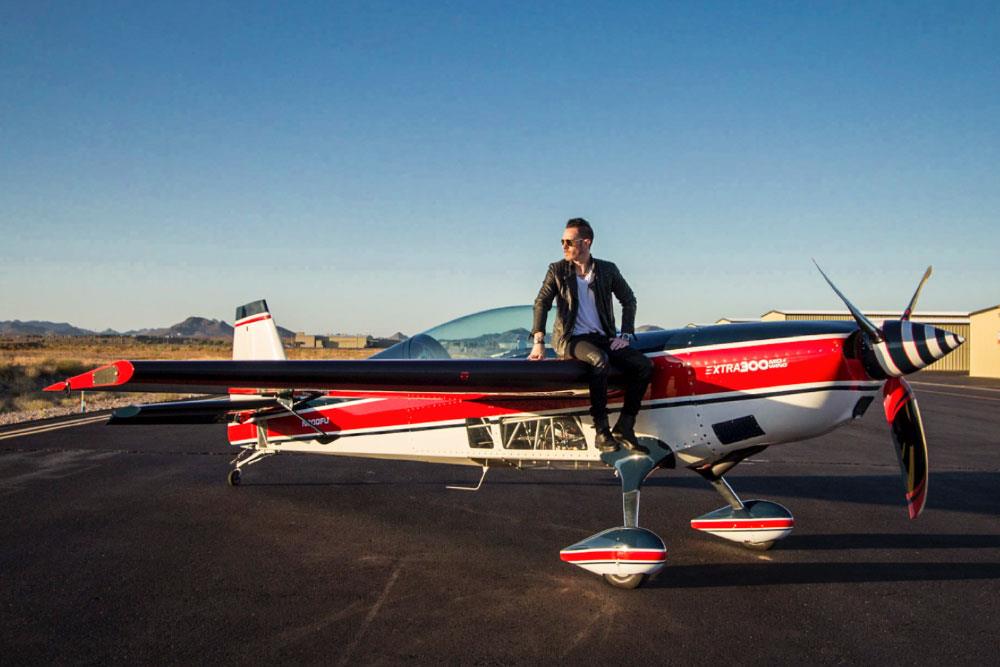 Elias Corey - Suzuki Airshows
Within this Way of Life, Elias Corey and Suzuki enter the fastest sport in the world, Competition Aerobatics and Demonstration Flight. At speeds over 250mph and nine times the force of gravity, man and machine will be tested as Elias Corey and Suzuki set their sights set on Global Advanced Aerobatics Championships. At the events spectators and enthusiasts will have the opportunity to immerse themselves in the world of Suzuki. From racetrack to back roads to adventure off-road you'll have the opportunity to test Suzuki's full line of motorcycles at the Suzuki National Airshow Tour. We look forward to seeing you there and to introducing you to the Suzuki's Way of Life.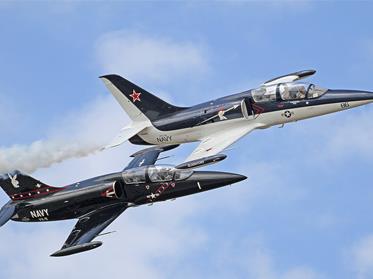 Warrior Flight Team
Warrior Flight Team (WFT), reaches out to wounded soldiers and their families through numerous support groups and veterans organizations and invites those who have served and sacrificed so much to meet the team. These get-togethers are centered around large, well-attended events such as fundraisers, airshows, and sporting contests. The WFT honors these warriors and their families with a truly unique experience and unparalleled hospitality and camaraderie. It's a time for relaxation as well as reflection on the price many pays for serving in the armed forces. In front of millions of people annually, the team has the chance to promote the Warrior Flight Team programs as the soldiers are honored publically.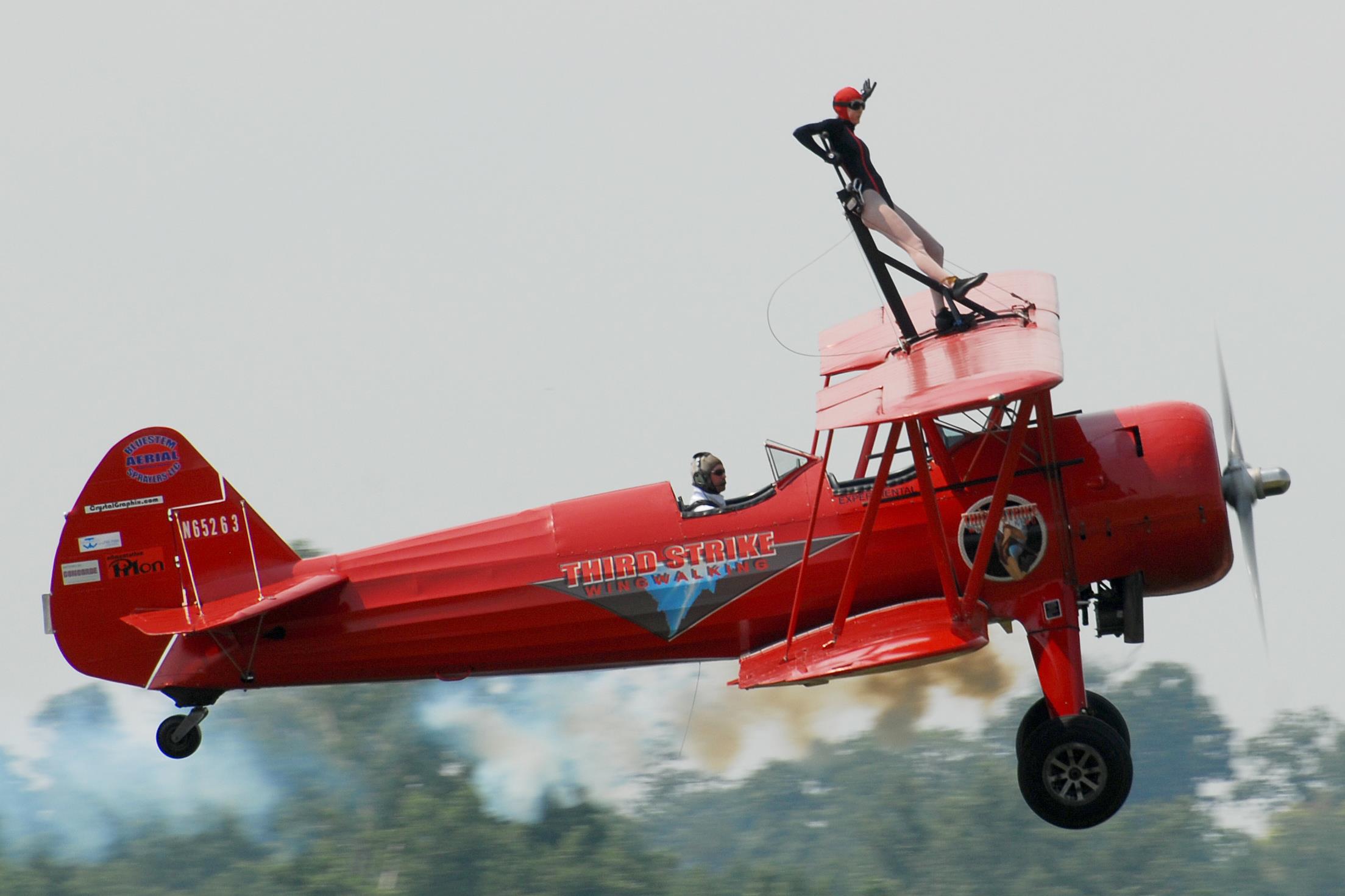 Third Strike Wing Walker
Carol has performed with no less than seventeen different pilots, ten of which she helped accredit on five different types of aircraft. She also mentored a team in Austria, teaching lower wing work and actual walking. She has helped set new wingwalkers on their path and assisted pilots in obtaining competencies. She has walked on the most powerful aircraft, a jetwaco with 3000 available hp to the one with the least, a quicksilver ultra light at 45hp.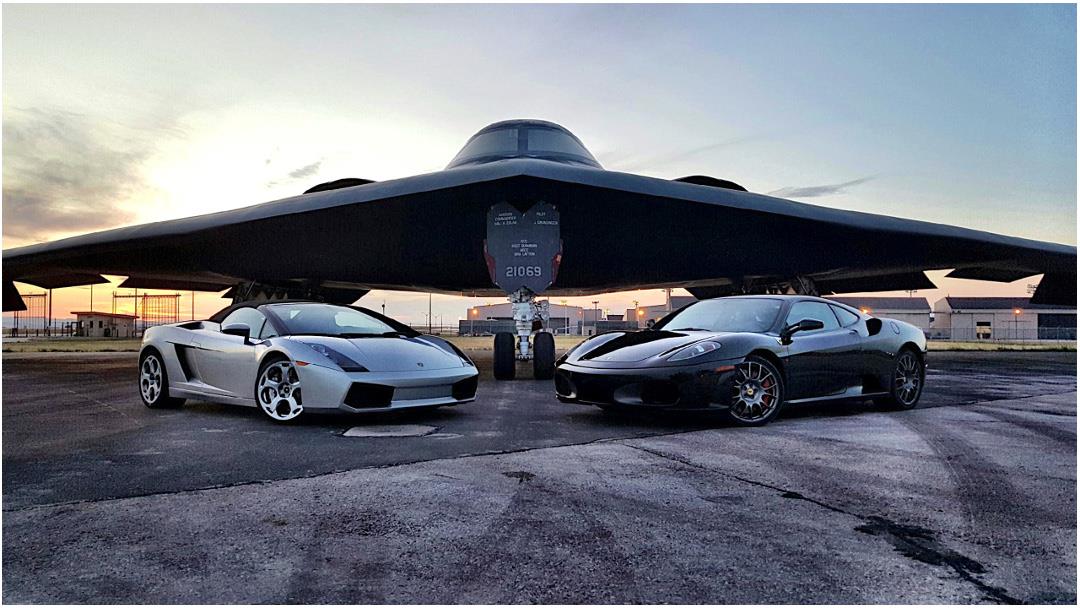 Precision Exotics
Precision Exotics along with Stacy Newman Events has successfully created some of the most unique and exhilarating driving experiences known to man. At our custom events, you'll actually be allowed to rip your exotic down the runway at unrestricted speeds against some of the most recognizable aircraft in history, flown by some of the greatest pilots in the world.